AKWCA's membership currently comprises 17 member conservancies united in the shared quest to promote sustainable development that safeguards the people and biodiversity of the increasingly urbanised and all-important wildlife dispersal area that is the Athi-Kapiti ecosystem.
ILRI Kapiti Wildlife Conservancy
Konza City Conservancy is a private conservancy nestled in Machakos County. 
Lisa Ranch and Game Sanctuary
Lisa Ranch and Sanctuary is part of the Machakos ranches that are a plains heaven for livestock and wildlife. The Lisa Ranch experience as narrated by Rupi the African Trotter.
Lukenya Hills/Kasanga Ranch
The Lukenya Hills/Kasanga Ranch is situated approximately 32 kilometres east of the capital city Nairobi. It borders Ol Donyo Sabuk National Park. One can spot zebras, impalas, elands and gazelles while at the ranch, which also hosts a rock climbers' track and campsite ideal for upping one's bush-crafting skills. Facebook
Lukenya Wildlife Conservancy
Lukenya Wildlife Conservancy is home to seasonal dams that provide water points to the giraffe, oryx and zebra populations that roam the Athi-Kapiti plains. The conservancy also provides a great getaway for biking and birdwatching among other outdoor activities. 
Maanzoni Wildlife Estate is a group ranch comprising unfenced five-acre land in Machakos County. It is a residential and conservation area where wildlife and the community coexist. Visitors to the estate can sight an array of wildlife and birds, including giraffes, zebras, elands, Thompson's and Grant's gazelles, warthogs, jackals, honey badgers, wildebeest, Kongoni, pangolins as well as the world's largest bird: the ostrich and the world's largest and heaviest flying bird: the Kori Bustard. Website | Facebook 
Machakos Ranching is one of the group conservancies in Athi-Kapiti where private land owners come together to enable to roam freely on their land and coexist with livestock and the community.
Mountain Club of Kenya is a non-profit members' club for people that enjoy the outdoors: hiking, rock climbing and scaling mountains.
Twitter
|
Instagram 
Naretunoi Community Conservancy is a community conservancy on the confluence of three counties: Nairobi, Machakos and Kajiado. The conservancy borders the Mbagathi River and sits at the southern border of the Nairobi National Park and borders. It is, therefore, a crucial dispersal area for wildlife, such as wildebeest, zebras, Thomson's gazelles and giraffes. Guided by the community scouts, one can explore the conservancy on foot or by bike. One can also help clear out the invasive parthenium weeds along the river and plant trees while visiting the conservancy.
Instagram

|
Facebook
New Astra Ranch is a private conservancy located in Machakos Country, 45 kilometres from the capital city of Nairobi.
Oldonyo Sabuk National Park
Oldonyo Sabuk National Park is a KWS (Kenya Wildlife Services) park that is part of the Athi-Kapiti landscape. The park, located in Machakos County, is home to the small mountain Ol Donyo Sabuk whose peak height stands at 2,145 metres as well as 45 species of birds and an array of animals, including the buffalo, bushbuck, leopard, olive baboon, aardvark, porcupine and mongoose. KWS Website
Olosira Conservancy is an emerging group conservancy located in the expansive Kajiado Country, about 62 kilometers from the bustling capital city Nairobi.
Rimpa Estate Wildlife Conservancy
Rimpa Estate Wildlife Conservancy is located approximately 25 kilometres southwest of Nairobi, bordered to the west by the views of Ngong Hills and to the north by the Kiserian River. Rimpa, a Maasai word that means: a place of no lack, is a livestock ranch that supports the local community with improved Dorper sheep and Simmental bull breeds.  It is also a wildlife dispersal area courtesy of its proximity to the Nairobi National Park. Website | Instagram 
Ulu Conservancy is a private conservancy located in Makueni country, a two-hour drive from the capital city of Nairobi. The forest conservation area provides an ideal getaway for outdoor activities such as mountain biking.
Yatta B2 Ranch is a group conservancy that is promoting wildlife conservation in an area that might not come to mind for most when they think of tourism and wildlife: Kitui County—yet it is home to Zebras, giraffes and impalas. 
Yoani Farm sits on the slopes of Salama Hills in Makueni County. The ranch, which employs tens of community members, provides a serene birdwatcher's getaway. The bird species at Yoani include the black-headed heron and the striped kingfisher.
Map of AKWCA Member Conservancies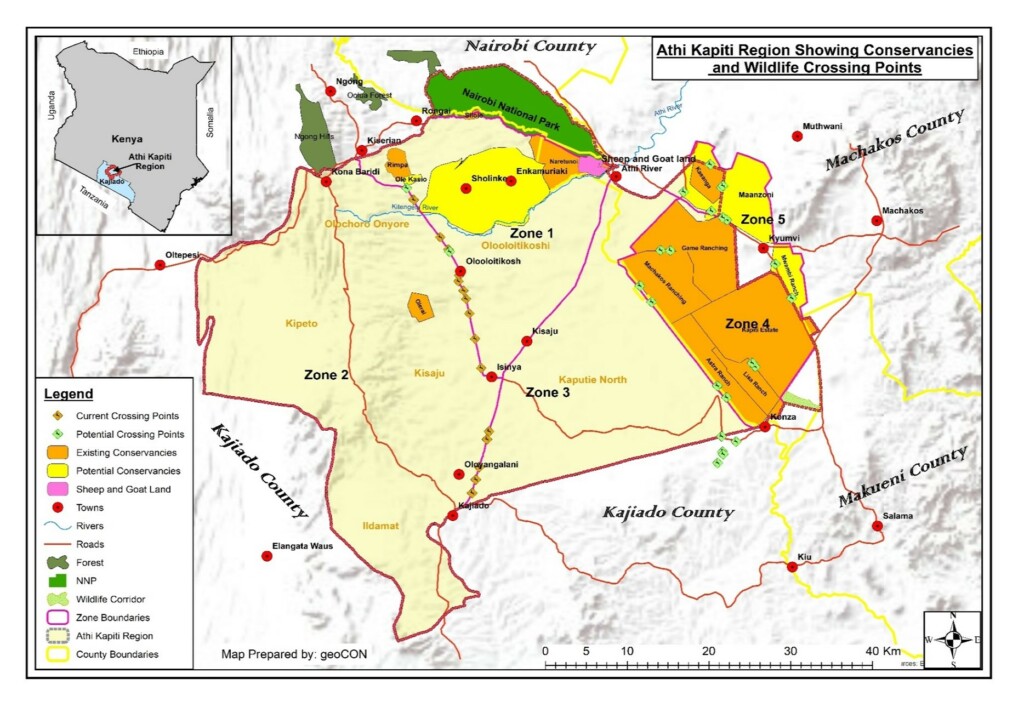 Discover the magic of the rolling plains of Athi-Kapiti and support community conservation in the majestic landscape.