AKWCA took part in the Landscape Conservancies Associations CEOs roundtable discussion with Wildlife PS Silvia Museiya and Environment CS Soipan Tuya, which was held on February 21 and 22, respectively. It was represented by landscape coordinator Ephie Lumumba.
The forum provided a prime platform to dialogue with the newly appointed ministerial officials at the heart of the two key conservation ministries.
The landscape managers presented updates on the strides conservancies are making in areas such as promoting ecosystem restoration and the coexistence of people, livestock and wildlife.
The participants also touched on partnership opportunities between the government and the conservancies.
During the initial forum on February 21, the Wildlife PS emphasised the need for well-governed conservancies to enable tangible benefits to reach communities.
Her counterpart in the Ministry of Environment reiterated this. She said her ministry will prioritise forests and rangelands restoration in addition to formulating the legal framework that will enable communities to explore carbon credits and benefit from equitable sharing.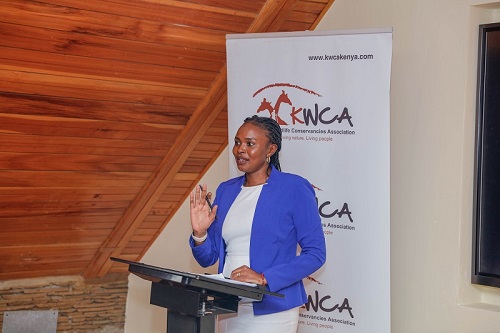 AKWCA on its part pointed out the major challenges facing the Athi-Kapiti landscape, including rampant quarrying resulting in massive environmental degradation and community health risks.
The association also touched on the pollution of the Nairobi River, which drains in the Athi-Kapiti landscape, posing a health risk to communities.
The Ministry of Environment reassured the association that the pollution menace is a top priority as was evidenced by the establishment of the Nairobi River Commission by the new regime.
The CEOs were tasked with mapping a collaborative framework between each of the ministries and the conservancies as curtains came down on the CEOs roundtable, which also provided a great platform to continue strengthening the conservation network in the country.